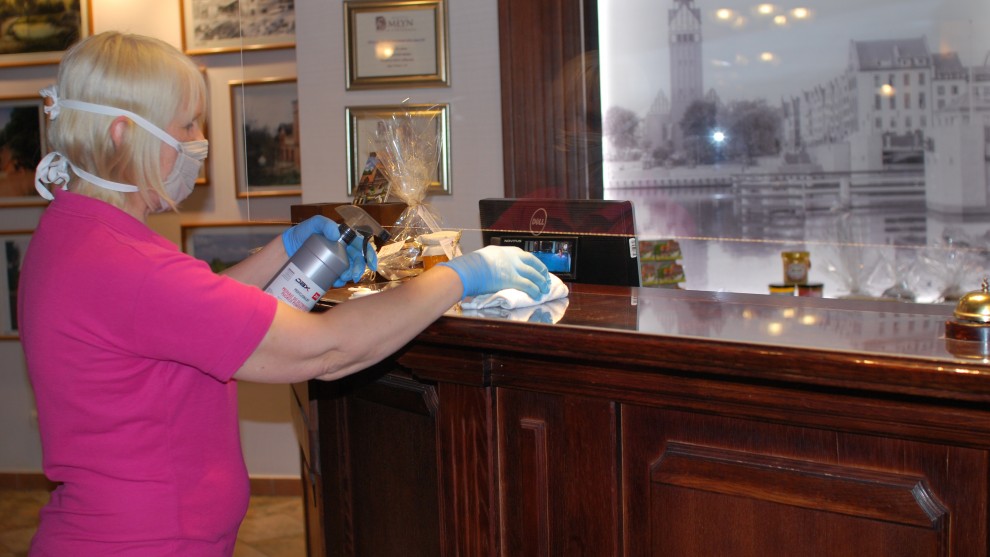 To protect our guests:
In the Hotel
we implement all the guidelines of the Ministry: https://www.gov.pl/web/rozwoj/hotele-i-inne-miejsca-noclegowe
dispensers with disinfectant fluid are placed at entrances, elevators, toilets;
we regularly disinfect handrails, door handles, elevator buttons, etc.;
The reception desk and tables are disinfected after each guest;
Employees have their temperature measured after coming to work every day;
only one room guests use the elevator at a time;
In the Restaurant:
obligatory hand disinfection by guests at the entrance to the premises;
staff equipped with protective masks / helmets and disposable gloves;
A buffet breakfast is served by the waiter according to guest wishes;
hand disinfectant dispensers for guests in the hall area and at the exit from toilets;
each time we disinfect tables after serving guests, we gave up treads on the tables;
we systematically hold and ozone the restaurant room;
guests use disposable additions such as sugar, pepper and salt. There are no vases, candlesticks on the table, nothing that is not necessary;
we gave up the elegant, leather menu difficult to disinfect in favor of laminated, sanitized after each guest.